I thought that by paying for a schedule's direct subscription we would be getting a better guide then what was being provided by Rovi. But every week there are either errors in the listings or generic descriptions. Last week the college football games on CBS had a generic description. Same for some of the NFL football games. Here is the latest example from today Friday:
Channel: TUDN Time: 7pm pacific time: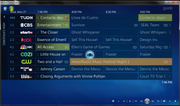 When in reality there is a playoff game going on. Here is the correct listing from Zap2it's website:

Normally this wouldn't be a big issue but it seems to be happening more and more. I'm sure i'm not the only one this is happening to..?